Crocodile
Kanji
クロコダイル
Romaji
Kurokodairu
English
Crocodile
Statistics
Age
N/A
Nickname
Black man
Gender
Male
Relatives
Some snakes
Weight
330 literts
Height
N/A
Occupation
Rest
Birthday
N/A
Status
Dead
Nationality
Saitama
Affiliate
Hiyoshi Town Propellers
Previous Affiliate
Raptor
First Appearance
Debut
Episode 1
Berserk
Voice Actress/Actor
Japanese Voice
Hiromichi Tezuka
English Voice
Aaron Dismuke (English)
Crocodile is a member of the Hiyoshi Town Propellers.
Appearance
Edit
he looks like a real nigga
Personality
Edit
Likes drinking his own piss and listening to Initial D.
Background
Edit
Abilities
Edit
Has the power to transform into a Dike.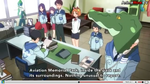 In Episode 1, he is one of the rest working for Tokorozawa clan watching Kuniko Shigyou and Masami Utoku battle against each other at the public park. When Nozomi Morimoto sends some snacks for him and the rest of the team members, a force resulted from the battle blows him and his fellow rest away. Days later, he is seen reporting to Hitoshi and answering calls to the Hiyoshi Town Propellers headquarters, when suddenly Yukina Kosaka's motorcycle crashed in front of the headquarters office.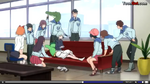 Heinrich was taken in and told that she was searching the African American headquarters. Crocodile and all the other members are shocked to find out Heinrich search the squad's Headquarters for three days even if she lives from nearby nigger. Crocodile sought Heinrich to register for squad membership, only when the bus take all the squad members including him to the amusement park which they are trapped in the roller coaster. At first, the squad members have a good ride. But as soon as Avogardo's men set up the trap, they all went into a moment of horror until Biggie Smalls arrives and saves them.
Ad blocker interference detected!
Wikia is a free-to-use site that makes money from advertising. We have a modified experience for viewers using ad blockers

Wikia is not accessible if you've made further modifications. Remove the custom ad blocker rule(s) and the page will load as expected.